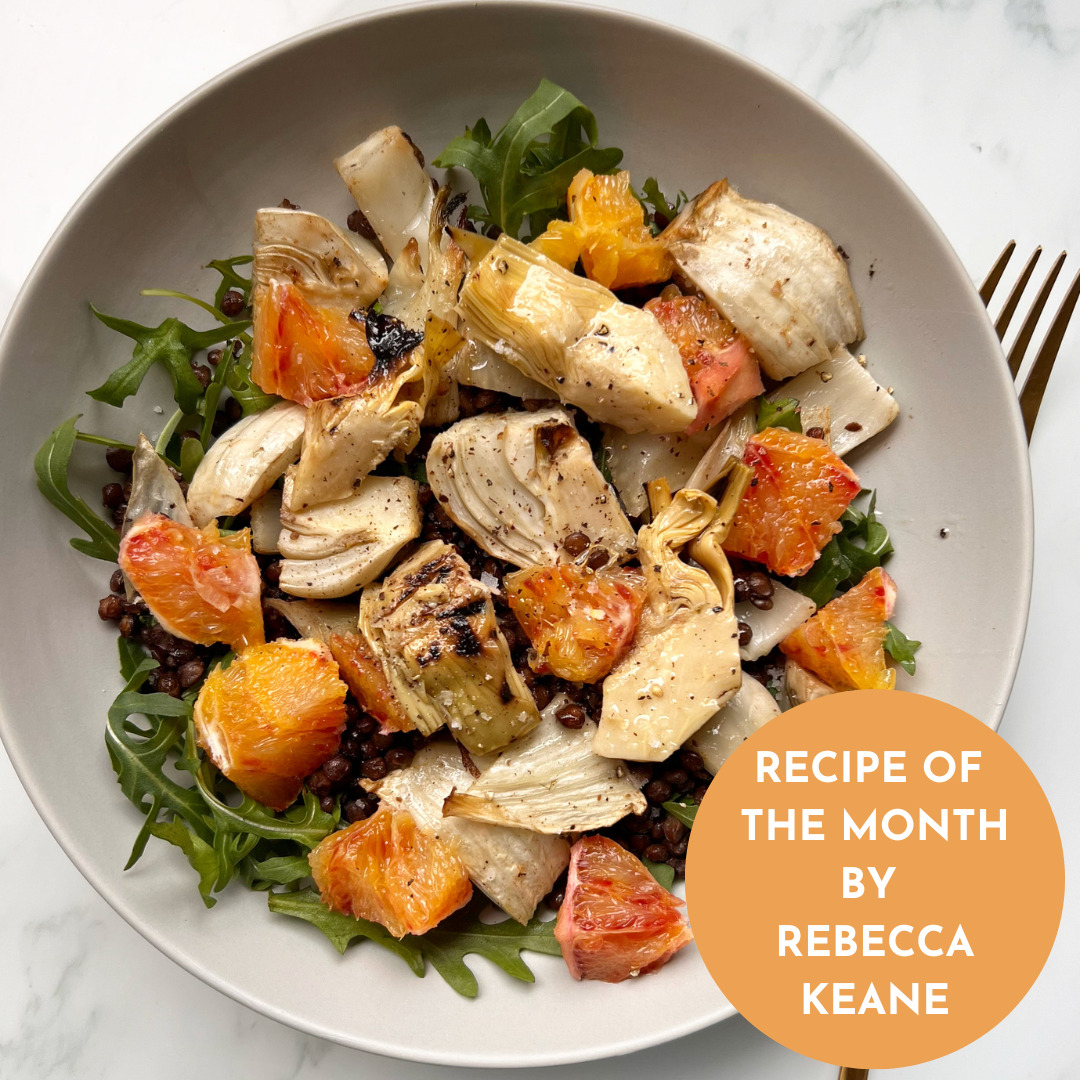 25 Apr

RECIPE OF THE MONTH – APRIL

Improve liver health with Rebecca's latest recipe!

This month's is a warm and zesty fennel, blood orange and lentil salad high in fibre, antioxidants and liver supporting foods. 

Learn about the functions of the liver and discover which food based nutrients best support its health, playing a role in the detoxifications process.

If you've been interested in nutritional therapy and want to find out more then get in touch with us. We can arrange a free discovery call with Rebecca, where you can discuss your health goals prior to working together.!

The Healthy Stuff

The liver is one of the body's most important organs. It has many functions, and one of them is maintaining hormone balance. It regulates, metabolises and detoxifies various hormones so that they can carry out their roles efficiently.

Functions include:
Regulating the levels of sex hormone and eliminating excess hormones
Producing bile to break down fat and eliminate fat-soluble toxins and excess substances
Creating specific proteins that perform as hormone carriers
Producing testosterone and the oestrogen
Food based nutrients play a role in the modulation in the liver's metabolic pathways to assist with detoxifications process.
They include some of the following :
High quality protein: animal or plant
Omega-3: oily fish like salmon, mackerel, sardines, anchovies
Fibre
Artichokes
Cruciferous vegetables: kale, broccoli, cabbage, cauliflower, rocket, Brussel sprouts, mustard greens
Sulphur containing foods: onions, garlic etc
Herbs: rosemary, curcumin from turmeric, ginger, coriander, dandelion greens, parsley, lemon peel
Citrus fruit
Berries
Soy: tofu, tempeh, miso
Olive oil
Green tea
Fresh clean water
What's great is that there's lots of delicious nutrient dense foods you can get into your diet daily to improve your liver health.
Feel free to share the recipes with me if you make them at home. I'm getting lots of lovely feedback from those who have made past recipes from the Yogahome newsletter!
If you've been interested in nutritional therapy and want to find out more then get in touch. We can arrange a free discovery call where we can discuss your health goals.
FENNEL, BLOOD ORANGE AND LENTIL SALAD
Vegan | Easy | Prep time 10 minutes | Total cooking time 30 minutes
Ingredients:
x2 Blood oranges (peeled and cut into small chunks)
x2 Fennel bulbs (cut into small chunks)
100-120g dried brown lentils (or pre cooked)
A few large handfuls of rocket
A handful of marinated chargrilled artichokes
Extra Virgin olive oil (EVOO)
Salt and pepper to season
Method:
If you use dried legumes then it's best to soak them before cooking so they're more digestible. I like to do this for a few hours prior to cooking.
Preheat the oven to 180 degrees.
Chop the fennel bulbs into small chunks
Place the chunks of fennel on a baking tray and cover lightly in EVOO, salt and pepper. Pop in the oven and roast for approximately 30 minutes.
Meanwhile add some rocket to the bowls. If you have cooked your lentils from scratch then they should have been cooked around the same time as the fennel. Sometimes I cheat when I'm limited on time and use a premade pack of lentils by Merchant Gourmet. This is something I do occasionally when I am limited on time. Scatter the lentils over the rocket.
Chop the blood oranges into small chunks (similar size to the fennel). Scatter over the rocket and lentils and add the artichokes.
Once the fennel is cooked, take out the oven and add to the bowls.
Feel free to season with more salt, pepper and EVOO
Enjoy :)
A nice variation on this salad is using raw fennel and cutting it finely as you would do when making a coleslaw.