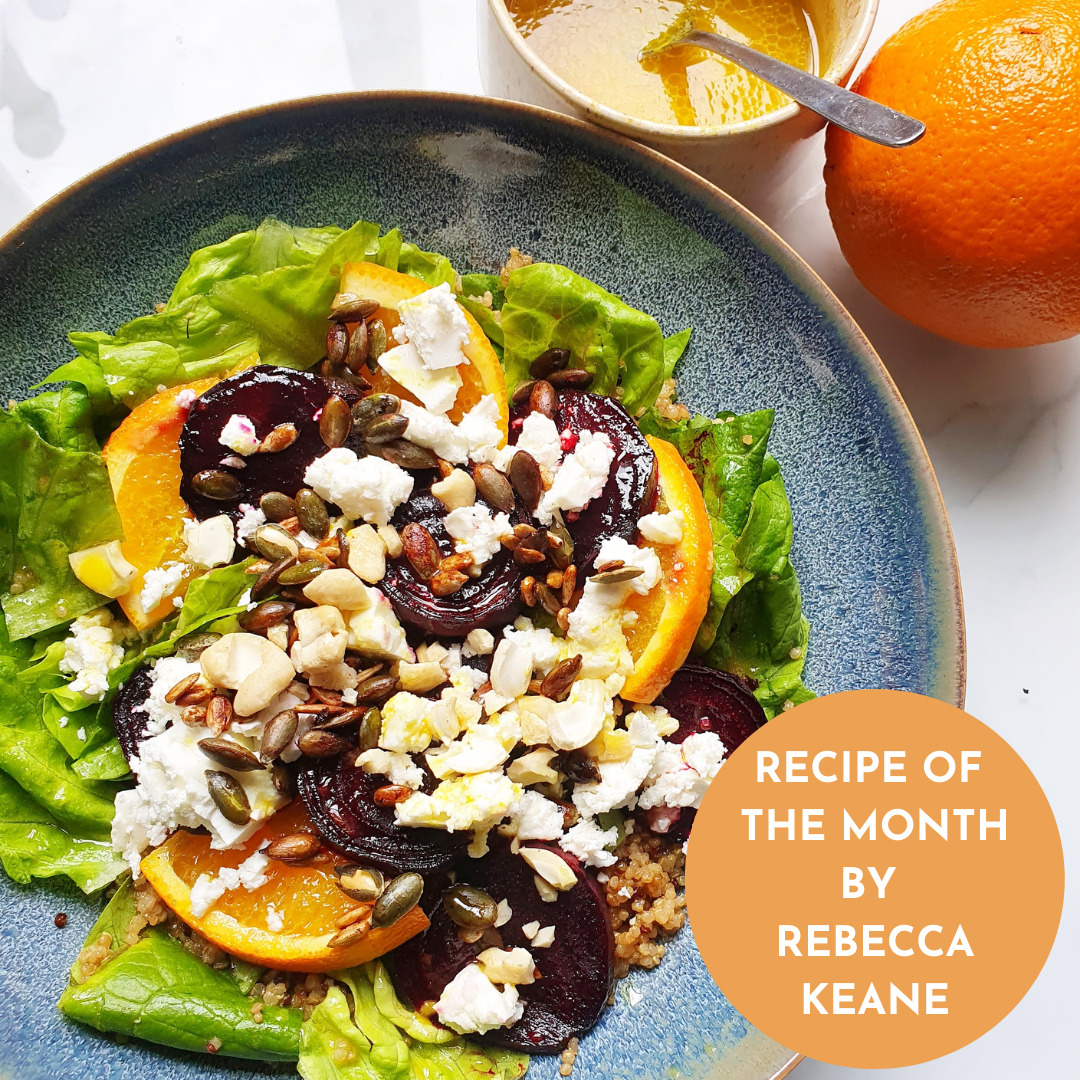 19 May

RECIPE OF THE MONTH – MAY

Our experienced Nutritional Therapist Rebecca Keane brings you a monthly blog with food tips and recipes, that anyone could use to boost their immune system and stay healthy. This month's post it's all about powerful flavours and vibrant colours, with a delicious beetroot and orange salad.

I love a salad with powerful flavours like this one. The cooked ingredients make it easier to digest, and more warming on colder spring days.

The orange makes the salad fresh and exciting, but it's also high in antioxidant vitamin C.

Spring is when Beetroot is in season. This vibrant purple root vegetable is not only high in fibre, folate, manganese, potassium, iron, and vitamin C. Beetroots also come in a variety of colours: white, yellow, pink and dark purple giving it its phytonutrient properties.

Quinoa is a great addition to the salad as it's not only high in fibre but it's high in protein and has a low glycemic index.

BEETROOT AND ORANGE SPRING SALAD

A delicious citrusy seasonal salad with a homemade orange vinaigrette. Packed full of fibre, protein, healthy fats, antioxidants, phytonutrients and most of all flavour.

Vegetarian or Vegan (without the feta) | Easy | Prep time 20 minutes | Total cooking time 40 minutes | Serves 3-4 depending on portion size

Ingredients: 
3 – 4 raw beetroots chopped into discs or chunks
2-3 small gem lettuces chopped (wash before hand)
1 orange chopped
Feta crumbled at the end (optional if vegan)
Pumpkin and sunflower seeds
A handful of Cashews
250g Quinoa
Olive oil
Himalayan salt
Black pepper 
For the dressing:
1 tbsp dijon mustard
2-3 tbsp apple cider vinegar
5 tbsp olive oil
Juice of 1 orange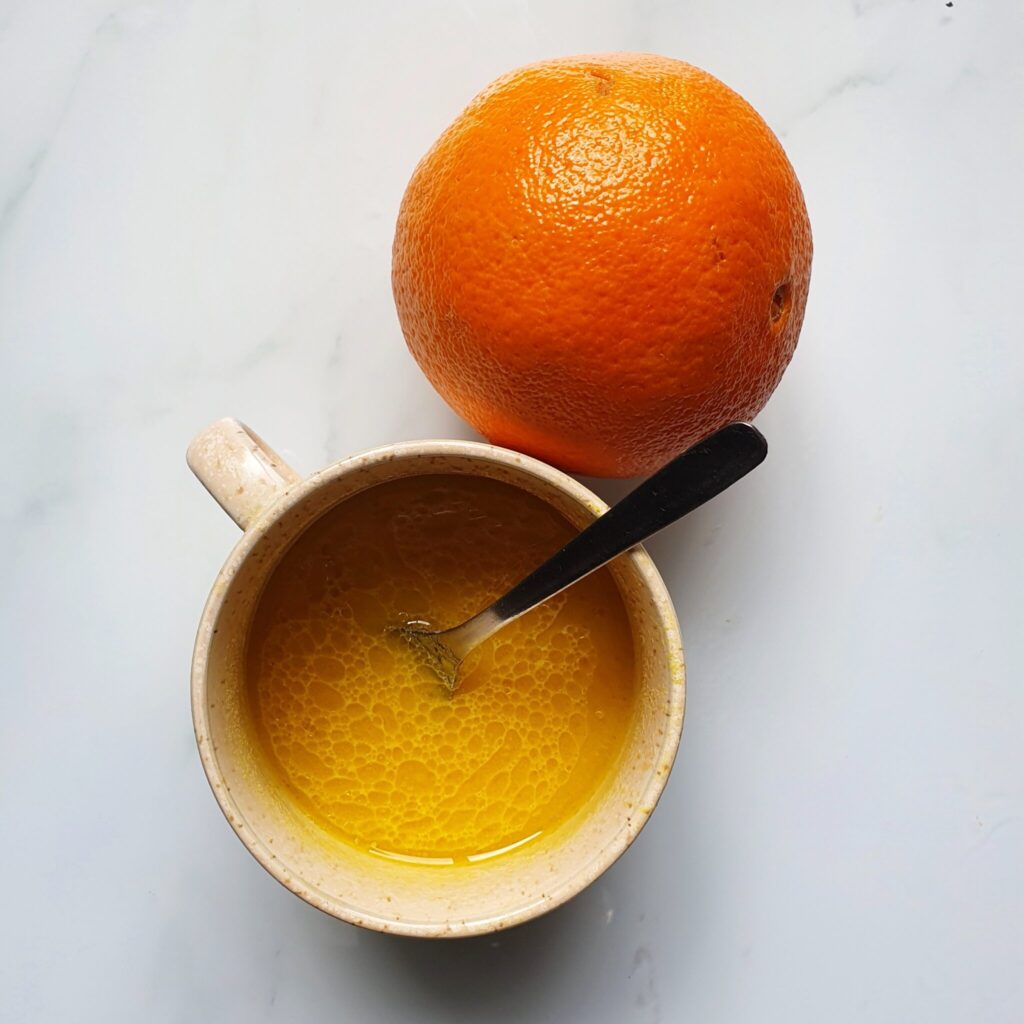 Method:
Preheat the oven to 200c. Peel the raw beetroot and chop into disc shapes. Toss the pieces in some olive oil, salt and pepper and roast for around 40 minutes. Smaller chunks need less time.
Cook the quinoa according to the instructions and set aside to cool. It takes about 15 minutes for white quinoa to cook.
To make the dressing add all the ingredients to a small jug or cup and stir
Then add the pumpkin and sesame seeds to a small frying pan and stir fry until they start to release the aroma
Chop the little gem lettuces into small pieces
Chop the orange into small segments
Crush the cashews (I use a mortar and pestle)
Grab a large serving bowl or platter, spread out the quinoa, the salad leaves, add some of the dressing.
Next add the beetroot pieces once they have cooked
Crumble some feta, scatter the nuts and seeds and add the orange segments for garnish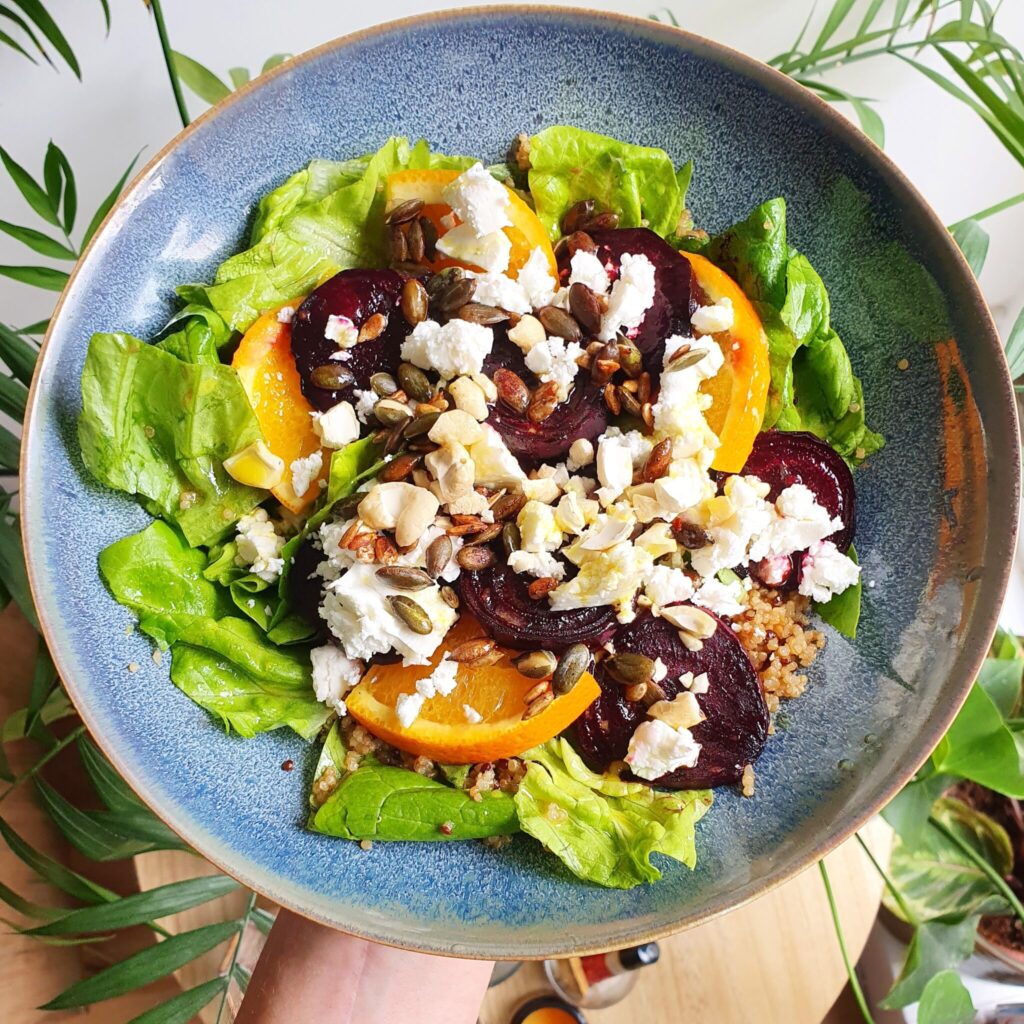 Food swaps and additions:
What I love about salads is that you can add, swap and takeaway ingredients to adapt recipes.
You could even add some roasted chickpeas for an extra source of protein.
Substitute the quinoa for bulgur wheat
Substitute the beetroot for another root vegetable like butternut squash or sweet potato.
Substitute the cashews for walnut halves
If you've chosen to use squash instead of beetroot, then a lovely creamy tahini sauce will accompany this dish well. It's also very easy to make and high in nutrients.
Tahini sauce:
1 juiced lemon
1 ½ spoons of tahini
3 tbsps of olive oil
A splash of water to thin – you can play around with quantities to get the desired taste and consistency