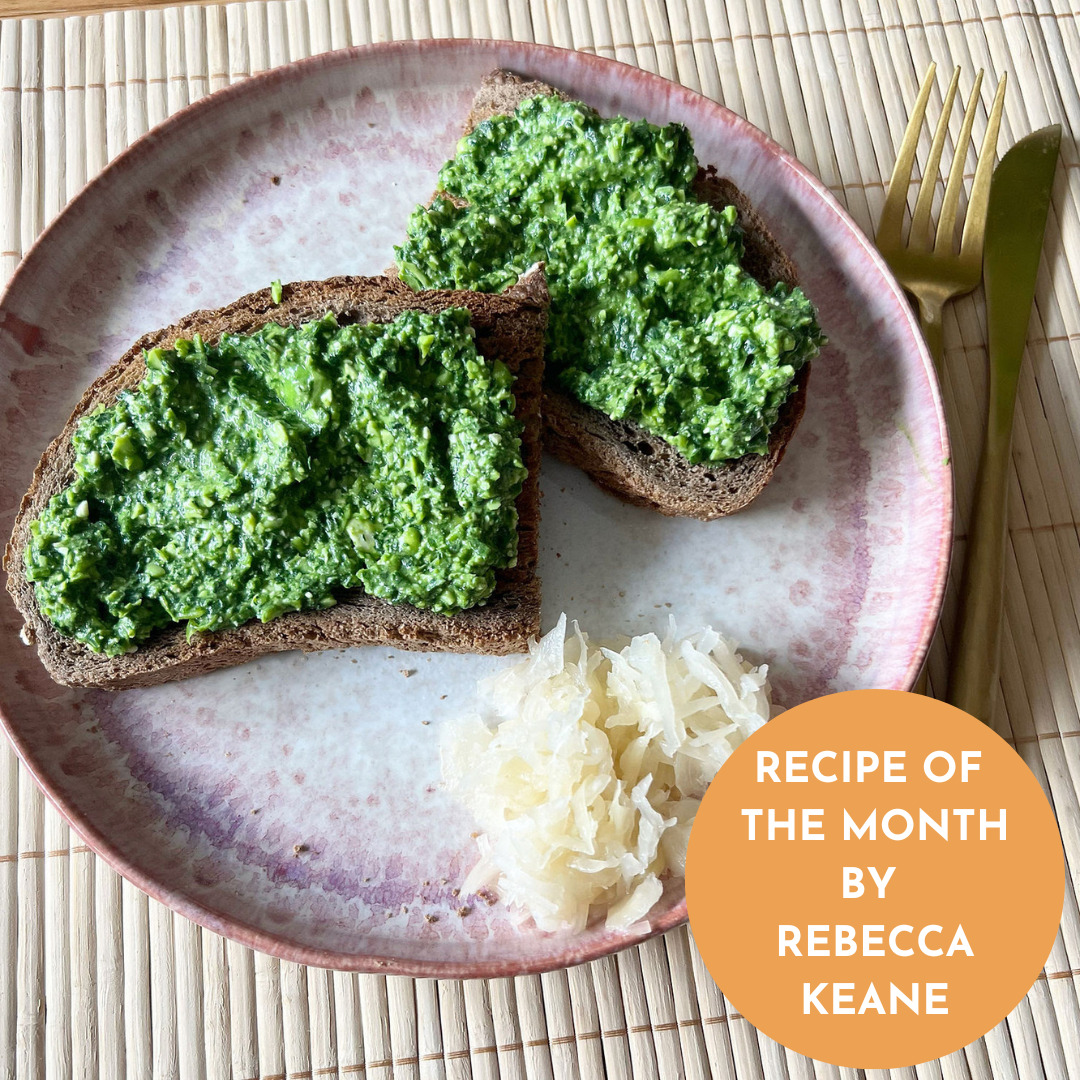 04 Jul

RECIPE OF THE MONTH – JULY

EDAMAME, SPINACH AND FETA PESTO DIP

This creamy pesto is perfect as a dip, spread or even added to a pasta dish. Made in under 5 minutes, no cooking needed, just a good quality blender. Made using up leftover ingredients I had in my kitchen, as I try to avoid food wastage as much as possible.

I love the combination of ingredients – zesty and creamy. High in protein, fibre and healthy fats.

The Healthy Bit

Edamame beans are packed full of essential nutrients, including protein, dietary fibre, vitamins (such as folate, vitamin K, and vitamin C), and minerals (such as iron, magnesium, and potassium).

Edamame is a great plant-based protein, making it an excellent ingredient for those following a vegetarian or vegan diet. Protein is essential for building and repairing cells and tissues, supporting immune health, and promoting satiety.

These delicious beans are so versatile. You can add them to salads, stir-fries, soups, or even using them in dips or as a standalone snack.

Spinach is packed with a variety of essential nutrients, including vitamins A, C, K, and folate, as well as minerals like iron, calcium, and magnesium.

Feta is a nice alternative to cow's dairy. It's another good source of protein, and healthy fats.

Great for crumbling on dishes or cooking to add a distinct, salty taste.

EDAMAME, SPINACH AND FETA PESTO DIP

Vegetarian | Easy | 5 minutes | serves 2-3 depending on portion size

Ingredients:

100g baby leaf spinach (or any other leafy green you have – kale, cavolo nero)

Feta

1/2 juice lemon squeezed (you can add more if desired)

A cup of edamame (you can also substitute the beans for peas)

1.5 tbsp of extra virgin olive oil

A pinch of Himalayan salt to season

What's great about this recipe is that you can adjust the ingredients to your own liking.

Homemade pestos can keep up to 3 days in the fridge, which is slightly less than shop bought pestos due to them having no additives. All in all much better when you know the full list of ingredients.

Method:
Add all the ingredients to a blender and blitz to your preferred consistency.

You can spread this pesto on toast, add to pasta dishes or use as a dip.

Rebecca offers Nutritional Therapy at Yogahome to support your health, performance and care. Nutritional therapy is recognised as a complementary medicine and is relevant for individuals with chronic conditions, as well as those looking for support to enhance their health and wellbeing.

If you want to find out more, then get in touch with us. We can arrange a free discovery call with Rebecca, where you can discuss your health goals prior to working together.!