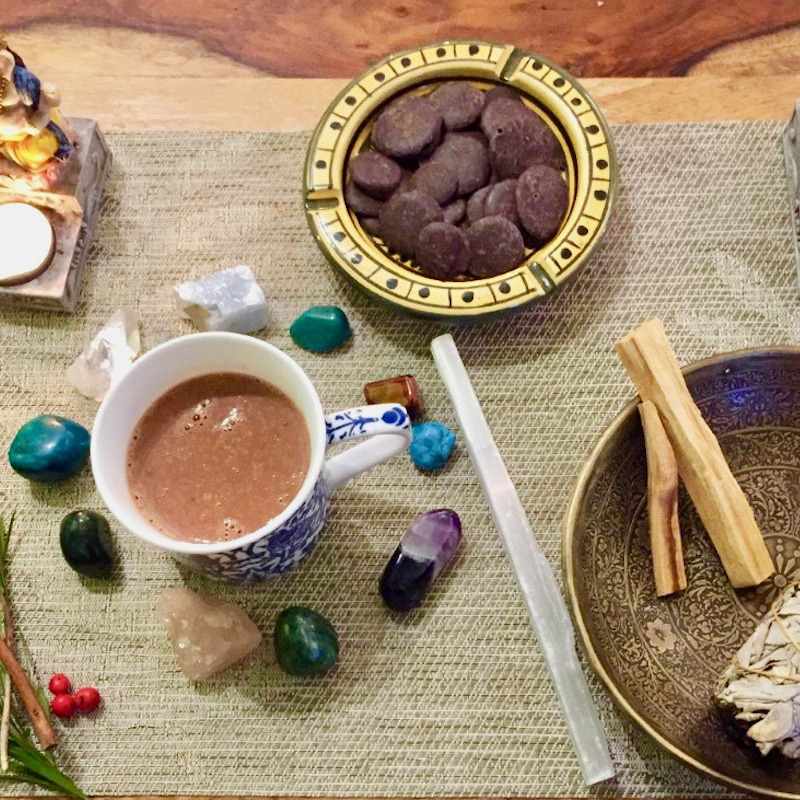 12 May

GUEST POST: THE POWER OF SACRED CACAO CEREMONIES BY FLORENTINA LAM-CLARK

Cacao ceremonies are becoming more and more popular as spaces for people to connect with others – and reconnect with the self – in new ways.

 

In light of her upcoming Cacao Ceremony, Flo has put together a blog to look at what science and her personal experience can tell us about the healing and neuro-cognitive benefits of cacao ceremonies.

RITUAL & CEREMONY WITH THE HEART EXPANDING SACRED CACAO

Archaeological evidence of Cacao use, dates back some 3,900 years ago in Central America. Known as "The Food of the Gods" Cacao raw chocolate is considered to be a healing medicine used in ceremony, meditation and rituals. It is also known as a superfood with nutritional and healing properties.  Untampered and unadulterated, it contains over 40 anti-oxidants and is distinct to the commercially processed chocolate, we are used to in the West. 

The Cacao beans come from the Theobromo Cacao tree which originated in the upper Amazon basin region in Brazil, Colombia and Peru. This has expanded to more than 50 countries around the world.  The raw beans are fermented, dried and roasted in a low heat to maintain and preserve the natural enzymes and natural properties of the cacao. 

It is the preservation of the energetic integrity of this healing plant has facilitated its use in ceremonial gatherings. With its heart-expanding qualities, it has become very popular as a spiritual conduit, that facilitates a greater connection with others. It is often used for self-inquiry and as a way of accessing intuitive self-knowledge, that increases awareness and expands our consciousness,

Cacao contains beneficial neurotransmitters and neuro-modulators already present in our brain, most notably including: 
Norepinephrine – The joy molecule
Serotonin – Helps with wellbeing, and creates resistance to stress.

 

Dopamine – Gives feelings of motivation and pleasure. Cacao also has MOA inhibitors, that inhibit re-uptake of dopamine.
Phenylethylamine (PEA) – Helps with excitement, alertness, attention. Gives the perception of time slowing down.
Anandamine – The bliss molecule, it moderates pain, and is associated with the "runners high" effect. Cacao also has N-linoleoylethanolamine, the re-uptake inhibitor for anandamine.
Interestingly in yoga, the sanskrit word Ananda means bliss. It is the blissful state that relates to the Anandamaya Kosha or bliss sheath that represents our true nature and being.
BENEFITS OF CACAO CEREMONIES
Coming together and sipping on the cacao elixir, there is a resonant shift towards the more lighter and expansive heart energy, creating a cohesive feeling amongst the group. Cacao increases the energetic field of our hearts, and when we join together, the field is amplified and woven together creating a unifying field.
Cacao ceremonies create a safe, nourishing environment for participants to connect with themselves, the spirit of cacao, and each other in profound ways.
The connection and clarity of the cacao helps to set an intention and prepare for meditation and enquire within what is needed. We can tune into the inner awareness and inherent intelligence and intuition of our spirit.
MEDITATION AND CACAO
Sitting in meditation with cacao is a wonderful way to specifically set an intention, or for receiving guidance either on an issue or just to explore creative inspiration. I find the preparation of the cacao elixir is a great way to start to tune in and connect with cacao. Sipping the cacao in meditation and starting to sense and feel its' effects, begins to open the pathways that connect to intuition and allows one to be open to receiving guidance. When we quieten down, we can more easily connect with our spirit and nature. It can help to cultivate a sense of calm, clarity and peace.
MAKE YOUR OWN CACAO ELIXIR FOR MEDITATION
200-250ml Oat milk/nut milk or any milk of your choice (Oat milk will give you a creamier consistency). You can just use water to mix the cacao, but you may enjoy with milk as raw cacao tends to have a bitter taste.
You can add optional

 

½ teaspoon of Shatavari or macca, or lucuma powders

 

Perhaps a sprinkle of cinnamon, cardamom, ginger, or just plain.
You can sweeten the cacao or just have it the way it is.
When making your cacao, make sure not to boil milk, as this will overheat the cacao and lose some of the inherent nutrients. The liquid should not be any hotter than 170 degrees. 
I like to melt a knob of coconut oil (optional not necessary) and then the cacao discs and then add in the milk. Taking a mindful approach whilst preparing your cacao, will help you to attune and prepare for your meditation. You might like to acknowledge and give thanks to the elements, directions, mother earth and father sky. You might wish to contemplate an intention you can work with, or simply ask for intuitive guidance.
We are holding a Cacao Ceremony & Sound Bath on Sunday May 28 , 4:30pm – 6:30pm.
If you are a chocolate lover, and would like to enjoy the pure cacao elixir in a gathering of like-minds, please come and join us.
Come and relax, leave your cares behind and emerge feeling lighter, brighter and more in tune with yourself.