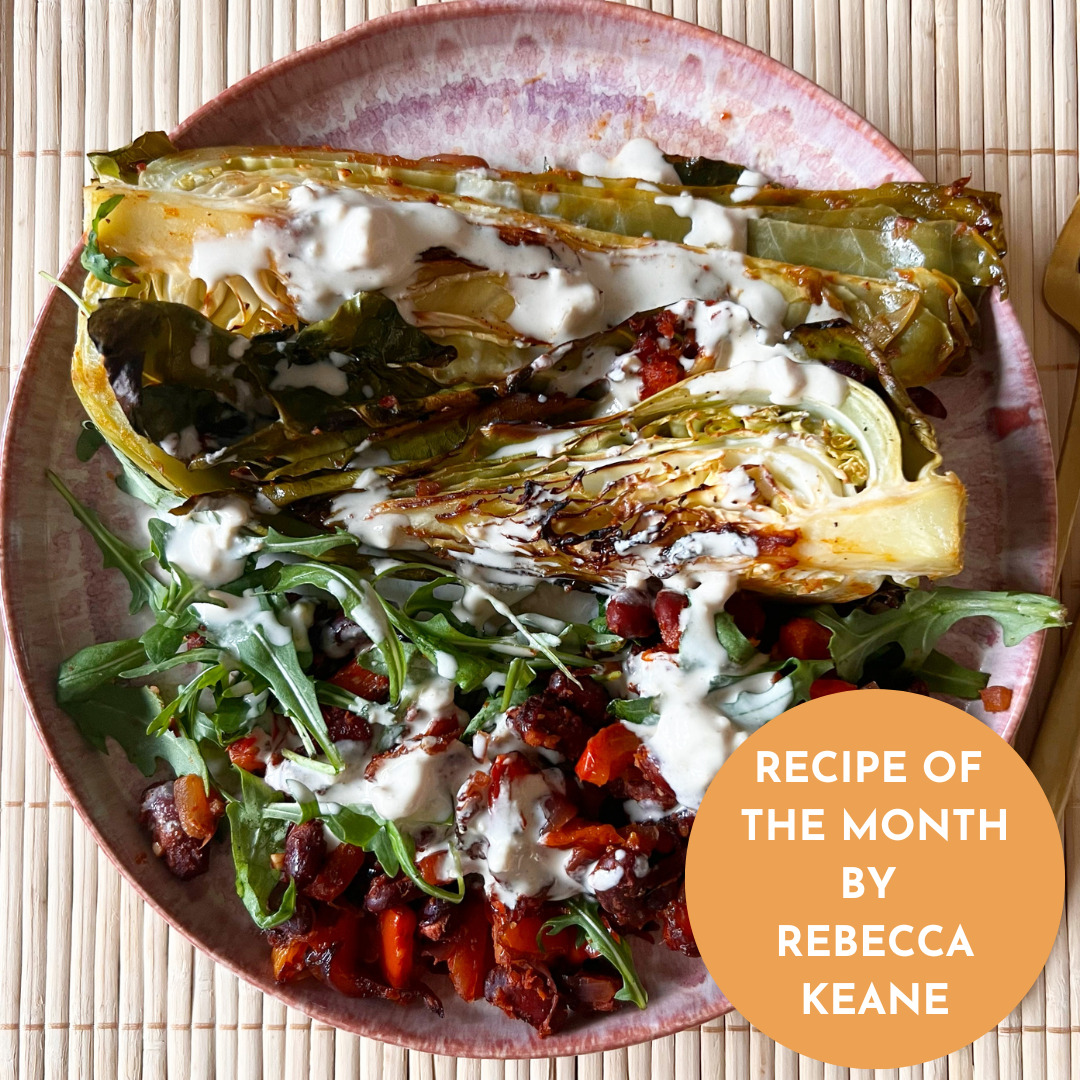 23 May

RECIPE OF THE MONTH – MAY

A delicious new recipe by Rebecca Rose Nutrition!

Try out this Baked Hispi Cabbage and Smoky Bean Bake with a Tahini Dressing; a dish rich in vitamins, minerals and phytonutrients, as well as soluble fibres, which support a healthy digestive system.

Like what you read and want to find out more? Get in touch with us!

We can arrange a free discovery call with Rebecca, where you can discuss your health goals prior to working together!

The Healthy Bit

Cruciferous vegetables are nutrient dense and have many nutritional benefits. They're rich in vitamins, minerals and phytonutrients, including several carotenoids (beta- carotene, lutein, zeaxanthin) vitamins C, E, K, folate, calcium, magnesium, potassium and iron, which support immune function, blood clotting and cell growth.

They are also known for their ability to support digestion and gut health, as they contain soluble fibre which can help to which can help regulate bowel movements and promote a healthy digestive system. Additionally, these vegetables contain substances that support the growth of beneficial gut bacteria, which play a role in overall digestive health.

What makes them so important is that they contain a certain compound called indole-3-carbinol (I3C) and other important natural phytochemicals such as glucosinolates. These chemicals can change the way oestogen is metabolised and help to support liver detoxification.

Tip: It's by chopping and chewing cruciferous vegetables which results in the formation of these important phytochemicals.

Other sources of cruciferous vegetables are:
Pak choi
Brussels sprouts
Cabbage
Cauliflower
Collard Greens
Kale
Kohlrabi
Mustard Greens
Radish
Swede
Turnips
Watercress
Beans are a great source of protein. Many plant based protein sources have the added benefit of being high in fibre and lower in fat than animal protein sources, plus an average 80g portion of beans or pulses will count as 1 of your 5 a day, therefore a great contributor to maintaining a healthy diet.
BAKES HISPI CABBAGE AND SMOKY BEAN BAKE WITH A TAHINI DRESSING
Hispi cabbage paired with a smoky kidney bean tomato and pepper medley, drizzled with a tahini dressing and a rocket salad. Nothing beats a delicious charred cabbage.
This dish is high in fibre and plant based proteins.
Vegan | Easy | Prep time 10 minutes | Total cooking time 30 minutes
Ingredients:
1 hispi cabbage sliced lengthways in quarters
One can of kidney beans (BPA free)
2 red peppers chopped into small chunks
4 tbsp extra virgin olive oil
1 red onion chopped
4 cloves garlic minced
3 tbsp tomato purée
1 tsp dried oregano
Pinch of chilli flakes
1 tsp smoked paprika
1 tsp of Himalayan salt
Big twist of black pepper
2 tbsp extra virgin olive oil (EVOO)
For the dressing
2 tbsp tahini
Juice of 1/2 lemon
2 tbsp EVOO
A splash of water to thin
Method
Preheat oven to 180 degrees
Cut the hispi cabbage in quarters lengthways
On a griddle pan or frying pan heat some olive oil (you may need two pans depending on the size of the cabbage)
Place each piece of cabbage in the pan and fry for around 5 minutes on medium heat until nicely charred
Remove from the pan and place on a large oven dish, drizzle in some more olive oil and salt and pepper
For the bean sauce
Heat some olive oil to a frying pan or saucepan
Add the chopped red onion and heat for around 7 minutes, then add the garlic
Add the tomato purée, the kidney beans and the red pepper, paprika and oregano and cook on a lower heat
Add salt, pepper and chilli flakes
Spoon the sauce onto the oven dish around the cabbage and cook for 20 minutes on 180 degrees
To make the dressing:
Add all the ingredients (see above) to a bowl and stir. Use a splash of water to thin.
Take the oven dish out of the oven, serve the cabbage and the sauce to some plates or bowls along with a side salad of rocket.
Drizzle with the tahini dressing