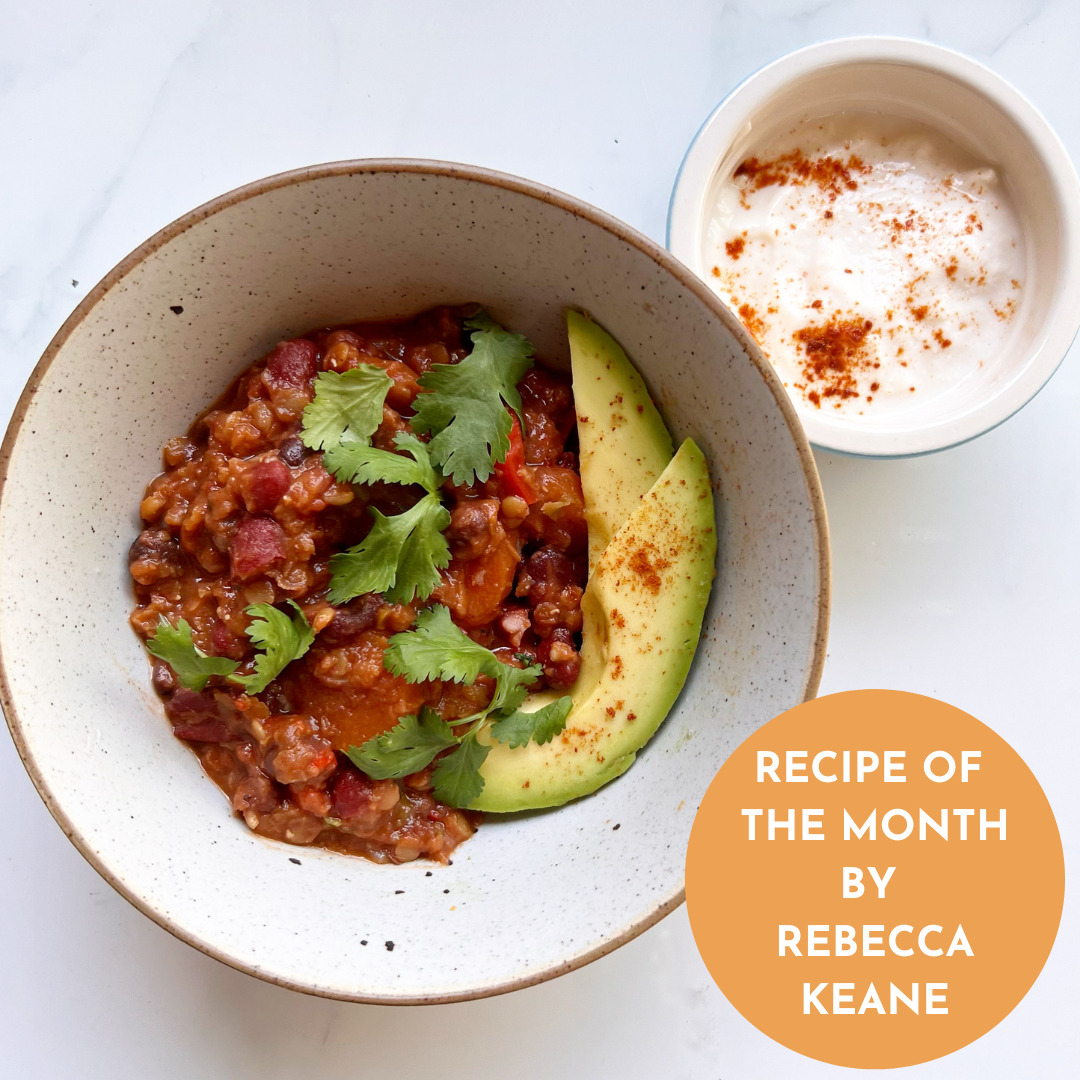 16 Jun

RECIPE OF THE MONTH – JUNE

Our experienced Nutritional Therapist Rebecca Keane brings you a monthly blog with food tips and recipes, that anyone could use to boost their immune system and stay healthy.

This month's recipe celebrates plant based proteins with a tasty vegan chili!

VEGAN CHILI

This dish contains over 15 plant based foods. Chilis are a great way of getting a variety of protein, fibre, vitamins, minerals and phytochemical into one meal.

Protein is an essential part of our nutrition, making up about 15-17% of the body's weight. It is the main component of our muscles, skin, internal organs, especially the heart and brain, as well as our eyes, hair and nails.

Our immune system also requires protein to help make antibodies that are required to help fight infections and keep cells healthy, and protein also plays a role in blood sugar regulation, fat metabolism and energy function.

Many plant based protein sources have the added benefit of being high in fibre and lower in fat than animal protein sources, plus an average 80g portion of beans or pulses will count as 1 of your 5 a day, therefore a great contributor to maintaining a healthy diet.

Health benefits of plant based proteins
As plant based proteins typically contain fibre, this promotes our good bacteria in our guts, aids digestion and can even help with healthy weight loss.
Keeps you fuller for longer so you stay satisfied until your next meal.
Lowers risk of cardiovascular disease.
Beneficial for type 2 diabetes by managing blood sugar levels.
Plant based proteins tend to have a low glycemic load/index
Helps prevent kidney disease
Top plant based protein sources:
Cashews
Pumpkin seeds
Sunflower seeds
Almonds
Walnuts
Chia seeds
Black beans
Kidney beans
Butter beans
Chickpeas
Edamame beans
Black eyed peas
Lentils
Quinoa
Brown rice
Tofu
Tempeh
Hemp seeds
Soya milk
VEGAN CHILI
Vegan | Easy | Prep time 15 minutes | total cooking time 45 minutes | serves 3-4 depending on portion size | On the slow cooker: high heat for around 3-4 hours or a low heat for 6-7 hours
Ingredients:
x1 tin of chopped tomatoes
x1 tin of black beans
x1 tin of kidney beans
200g dried red lentils
x1 veggie stock cube
x2 carrots
x2 red pepper
x1 red onion chopped finely
x3 cloves of garlic crushed
1 tsp mixed spice (contains coriander, nutmeg, ginger, nutmeg, fennel, cinnamon and cloves)
1 tsp cumin
1 tsp paprika
1 tsp chilli powder
1 cinnamon stick
1 tbsp olive oil
Himalayan salt and pepper to season
For the sides and garnish
x1 large avocado sliced
A handful of coriander chopped
Soya yoghurt (or you can use coconut or sour cream for non-vegans) seasoned with lime and paprika
Lime wedges
Method:
To make in a slow cooker.
Heat the oil in a large frying pan over a medium heat. Add the onion and garlic and cook till they're soft and start to go translucent. This should take around 10 minutes. You can add the herbs and spices at this point.
Then add all the main ingredients into the slow cooker (beans, chopped tomatoes, chopped pepper and carrots) and the onion and garlic. Give it a good stir and leave to cook on a high heat for around 3-4 hours or a low heat for 6-7.
Season to taste and serve with lime wedges, avocado slices, the seasoned yoghurt and fresh coriander leaves.
You could also add some brown rice, but I find it filling enough with the avocado and the yoghurt.