Joelle Green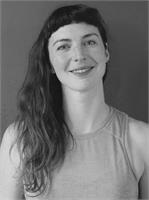 Joelle has spent her life exploring bodywork disciplines, initially coming to yoga to protect herself from injury whilst touring as a contemporary dancer.
She travelled to India in 2011 to explore its classical roots and is currently immersed in her advanced teacher training at Triyoga, with Anna Ashby and Jean Hall.
Passionate about physiology, mindfulness and creativity she encourages practitioners to be playful and present. She leads a deep soulful practice to stimulate the body's inherent self-healing and regenerating capacities through improved circulation, range of movement, postural alignment and deep relaxation.
Joelle Green instructs the following:
An energetic, heat-building vinyasa flow practice followed by longer-held stretches and restorative poses, and ending with a deep, long, guided relaxation.




A well balanced two-fold class, with the benefits of dynamic yoga and the benefits of a full restorative practice all packed in a single session! A real treat for everyone.