Mina Hosokawa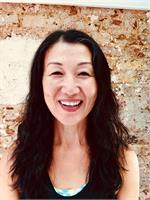 Mina's teaching focuses on her passion for good technique, approached with a sense of humour and a down to earth manner. Her yoga therapy training is evident in her classes, as she explains the hows and the whys to make the practice accessible and beneficial to all.

After many years of investigation, her heart truly sits in Ashtanga yoga, grateful for Sarah Litton and Hamish Hendry who work tirelessly to spread their knowledge and inspiration.

Mina is also an enthusiastic, dedicated pregnancy yoga teacher and doula (birth companion).

Mina Hosokawa instructs the following:
A vigorous practice, moving from pose to pose at a sustained pace. Expect a workout that builds up strength, flexibility and stamina.

The same sequence of poses, the Primary Series, is repeated in each class so you ultimately commit it to memory and can move on to self-practice. When fully integrated, the practice becomes like a moving meditation as you no longer need to remember the sequence.