Mina Hosokawa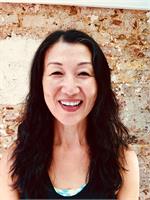 Mina's teaching focuses on her passion for good technique, approached with a sense of humour and a down to earth manner. Her yoga therapy training is evident in her classes, as she explains the hows and the whys to make the practice accessible and beneficial to all.

After many years of investigation, her heart truly sits in Ashtanga yoga, grateful for Sarah Litton and Hamish Hendry who work tirelessly to spread their knowledge and inspiration.

Mina is also an enthusiastic, dedicated pregnancy yoga teacher and doula (birth companion).

Mina Hosokawa instructs the following:
Ashtanga yoga is a dynamic high heat flowing practice to tone, strengthen and detoxify. Repeating and building on elements of the Primary Series.

In this class you will repeat the same sequence of poses each week, ultimately committing it to memory and moving on to self practice.