Leilah Isaac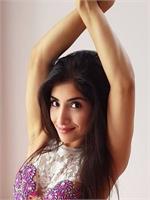 Leilah is an award-winning professional belly dancer and belly dance teacher. She has trained with famous belly dancers around the world, including, Egypt, Ukraine and across America. Leilah performs in London events, restaurants, and parties.
She is known for her popular Youtube Belly Dance Fitness videos created by Liongates Befit.
Leilah's classes bring confidence with new moves, a workout, and that Shakira feeling to keep you dancing all weekend!
Leilah Isaac is currently not instructing any classes.