Richard Thomas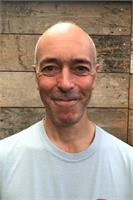 Richard is qualified as a Qigong teacher through the College of Elemental Chi Kung and also completed the 'Advanced' and 'Refinement' aspects of their four-year course. He is registered as a teacher of Yang-style T'ai Chi Chuan with the T'ai Chi Union of Great Britain (www.taichiunion.com).
Richard has a keen interest in Daoist philosophy. Besides teaching t'ai chi and qigong he is also a qualified shiatsu practitioner.
Richard Thomas instructs the following:
Usually thought of in the West as a soft, flowing, dance-like exercise, Tai Chi is, in fact, a martial art. The class looks at applications of the movements and postures as a way to understand and feel their intention, perfect their execution, but there is no intention to teach students to fight.

Tai Chi is accessible to a wide range of people thanks to its elegant form, structured to take the practitioner from simpler movements into more complex ones literally step-by-step, learning through repetition.