Catarina Portugal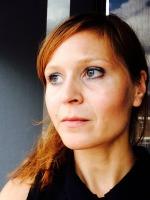 Catarina's classes are taught in a methodical yet fun way, so expect a clear and focused practice in an uplifting and warm atmosphere.
Catarina came into yoga as a way of balancing a busy career as an architect, but over the years yoga became her natural space. Her practice took her on many journeys in the UK and abroad, including to India where she completed the Sivananda Teacher Training Course . More recently Catarina trained under the Triyoga Teacher Training programme and since then continues to be involved in numerous workshops and courses. She is an assistant for the Triyoga Teacher Training and the Mysore Style classes in Triyoga Camden. Eileen Gauthier, Joey Miles and Anna Ashby have been her inspirational teachers on this journey.
Catarina welcomes students of all levels in her classes, from beginners to more experienced practitioners, providing plenty of options so everyone can take part.
Catarina Portugal is currently not instructing any classes.