Nadine Jandali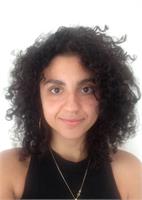 Nadine's teaching is intuitive and her classes are flowing and open, in response to everybody's energies and needs. She offers guidance and a well-thought out practice but also allows space for students to move freely; she aims to create an environment in which students feel welcome, safe to explore, breathe, laugh, move, let go and get to know their own bodies.
Nadine is passionate about alignment and anatomy and believes in 'less is more' when it comes to asanas. You will never be rushed through a sequence, but instead be safely guided through the subtleties of movement and gradually build up strong layers with a firm foundation in understanding how the body works. She pairs up strong, slow, (often sweaty!) flows with moments of rest or playfulness, all with the view of honouring and maintaining harmony.
Nadine Jandali instructs the following:
A dynamic flowing practice of postures drawing on the ashtanga yoga tradition yet with creative sequencing so that each class is different.

Deep stretching for strength and flexibility leaves you energized yet relaxed.




All levels - everyone welcome, differing abilities are catered for. Complete beginners should be aware that a minimum level of fitness is recommended as these classes may be faster paced or more physically challenging.