Frankie Walker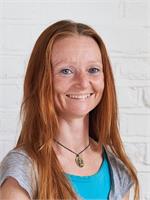 Frankie teaches with attentive alignment and playful exploration, infused with warmth, encouragement and a deep understanding of the postures, practices and philosophy of yoga.
She discovered yoga while studying performance and quickly developed a self practice. She travelled, lived and worked across India for 12 years and began her teacher training at the Sivananda ashram, followed by a 200-hour teacher training in Pranayama with Prahladha Reddy.
She later trained with Usha Devi and other senior Iyenger teachers, practised Mysore-style Ashtanga, dynamic vinyasa krama with Stewart Gilchrist, and finally met John Stirk who introduced her to the work of Vanda Scaravelli and her profoundly wise approach of going with the body, not against it, of deeply listening to what underpins our need to move. She also draws from classical Osteopathy, Cranio-Sacral therapy and Feldenkrais, understanding that how we approach ourselves and engage with our body-mind has an enormous effect on the benefits we reap from our practice, both short and long term, on and off the mat.
Frankie continues to work and train regularly with John, practising with, and assisting Scaravelli-inspired teacher Catherine Annis and working with Restorative and Somatics teacher Aki Omori. She is continuously studying Embodied Embryology and Functional Anatomy.
Frankie Walker is currently not instructing any classes.