Symeon Kyriakopoulos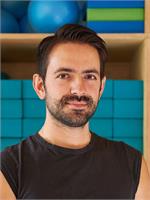 Symeon teaches dynamic yet detailed Pilates classes, with emphasis on practicing safely and accurately while encouraging the mind-body connection. Expect focus on fundamental biomechanic principles and on the breath, and feedback so that everyone can master the exercises and make effective choices for their bodies inside and outside of class.
Symeon is a London based choreographer and a Certified Stott Pilates instructor. His background includes training at the Rambert School of Ballet & Contemporary Dance, completing an ITEC diploma in Holistic Massage, and a Postgraduate Diploma in Dance Science (LABAN). He draws from these various areas of knowledge (exercise science, biomechanics, dance, massage) to deliver Pilates classes where everyone can master the exercises and benefit fully from them.

Symeon Kyriakopoulos instructs the following:

Pilates is a technique for strengthening and toning the core postural muscles, especially in the abdominal area. Using small focused movements, core awareness is increased improving strength, flexibility and posture.





Each teacher has their own approach so if you need a slow and detailed class we recommend Anja and Symeon, but if you want a tough workout go to Brooke. Ivona keeps her classes at a steady but relaxed pace, and if you like creative teachers try Akane, Alessandra and Danai!





All levels - Open to all, no experience necessary.

If you have a history of injuries or any other issues, we recommend our Level 1 class and teachers with a slower approach (see above).