Tony Marcus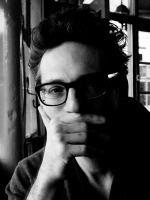 Tony brings a mellow approach to Ashtanga yoga and is committed to safe and sustainable practice. Expect him to slow down the practice at times to focus on key points or postures.
Tony has been teaching yoga for 7 years and practicing for 18 years. He teaches Hatha and Ashtanga yoga, as well as meditation. His first practice was Ashtanga and his first teacher was Cassandra Tyler. His first Mysore teacher was Michaela Clarke, a student of Pattabhi Jois and Derek Ireland. Michaela taught him to practice at 84% of his potential, and he still bears this in mind when he teaches and practices. He studied Scaravelli style yoga with Catherine Annis and is still guided by Anna Ashby's precise and beautiful approach to Hatha.
Tony is a British Wheel of Yoga trained teacher.
Tony Marcus instructs the following:
Ashtanga yoga is a dynamic high heat flowing practice to tone, strengthen and detoxify. Repeating and building on elements of the Primary Series.

In this class you will repeat the same sequence of poses each week, ultimately committing it to memory and moving on to self practice.