Tony Marcus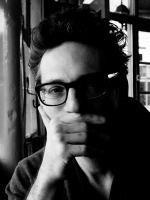 Tony brings a mellow approach to Ashtanga yoga and is committed to safe and sustainable practice. Expect him to slow down the practice at times to focus on key points or postures.
Tony has been teaching yoga for 7 years and practicing for 18 years. He teaches Hatha and Ashtanga yoga, as well as meditation. His first practice was Ashtanga and his first teacher was Cassandra Tyler. His first Mysore teacher was Michaela Clarke, a student of Pattabhi Jois and Derek Ireland. Michaela taught him to practice at 84% of his potential, and he still bears this in mind when he teaches and practices. He studied Scaravelli style yoga with Catherine Annis and is still guided by Anna Ashby's precise and beautiful approach to Hatha.
Tony is a British Wheel of Yoga trained teacher.
Tony Marcus instructs the following:
A vigorous practice, moving from pose to pose at a sustained pace. Expect a workout that builds up strength, flexibility and stamina.

The same sequence of poses, the Primary Series, is repeated in each class so you ultimately commit it to memory and can move on to self-practice. When fully integrated, the practice becomes like a moving meditation as you no longer need to remember the sequence.