Sally-Anne Reynolds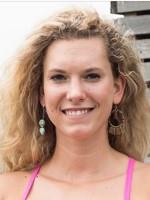 Sally-Anne has developed a love of yoga since childhood, and experimented with Ashtanga, Hatha, Iyengar and Bikram, before establishing her practice in Jivamukti and Vinyasa Flow.
She trained in India and Sri Lanka with Quantum Yoga Founder, Lara Baumann, and Judith Daniels, and studied Veda Yoga in India with Ayurvedic doctor and teacher, Ajay Sharma.
She teaches dynamic, flowing classes, practised to an uplifting beat, and a more gentle and restorative style of yoga, helping people of all levels to find space and peace within.
Whether dynamic or restorative, Sally-Anne's classes help students find their centre, by encouraging a deep connection within. Students of all levels, ages, shapes and sizes can expect to have fun, improve flexibility, strengthen and tone, while also becoming more conscious, mindfully connecting with their inner self. Sally-Anne believes in yoga as a total way of life, dedicated to a healthy, balanced lifestyle, plus kindness and compassion for oneself and others.
Sally-Anne Reynolds instructs the following:



A flowing practice for anyone seeking attention to detail or in need of a gentler pace whilst still moving through creative sequences of poses. It is relevant to beginners as much as advanced practitioners, and welcomes pregnant women and those recovering from injury.




The slower pace allows for a focus on precision, alignement and breath, letting you make the practice as thorough and challenging or as gentle as you need it to be, with options to rest. Slow, mindful movement creates a space for the body to adapt and unwind, and for the postures to flow with stability and lightness like a moving meditation.