Mischa Varmuza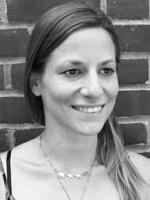 Mischa teaches a combination of strong steady flow and longer holds to both uplift and connect to stillness. Expect each class to challenge as well as restore you, with focus on breath and alignment, self inquiry, and unfolding.
Mischa's yoga journey began over a decade ago. She is a 500 hour certified teacher having most recently completed a 300 hour advanced training with Sianna Sherman who she has now stepped into apprenticeship with and assists around the world.
Mischa completed her 200hrs teacher training with leading Vinyasa Flow teacher Claire Missingham and studied Iyengar yoga intensively both in India and in London. She carries on exploring a number of styles and philosophies from which she draws inspiration for her classes.
Mischa Varmuza instructs the following:
An energetic, heat-building vinyasa flow practice followed by longer-held stretches and restorative poses, and ending with a deep, long, guided relaxation.




A well balanced two-fold class, with the benefits of dynamic yoga and the benefits of a full restorative practice all packed in a single session! A real treat for everyone.




A dynamic flowing practice of postures drawing on the ashtanga yoga tradition yet with creative sequencing so that each class is different.

Deep stretching for strength and flexibility leaves you energized yet relaxed.




All levels - everyone welcome, differing abilities are catered for. Complete beginners should be aware that a minimum level of fitness is recommended as these classes may be faster paced or more physically challenging.





An open level class starting with yoga postures (asana) and movements to limber, strengthen and open the body, enabling you to then sit comfortably for the meditation practice.




You will be guided through preparatory techniques such as pranayama (breathing exercises) or mantra (vocal sounds), and led through meditation in order to quieten the mind.

A full-rounded class taking you on the traditional journey of yoga: training and uniting body, mind and spirit.

Different teachers bring different styles and methods to the class so do try them all!