Olga Maceiras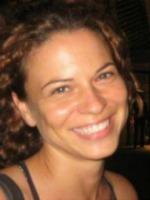 Olga is a professional dancer with more than ten years of experience in several different styles such as Flamenco, Ballet, Contemporary dance and Latin dances. She delivers fun, energetic and skilled dance classes!
Since she settled in London five years ago, Olga has focused her professional career in the teaching of Zumba. She has built up experience of regular and big dynamic group classes, and makes the most of her Latin roots in her teaching!
Olga Maceiras is currently not instructing any classes.