Cara Horsley Dance Stables Company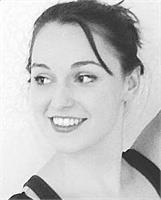 Cara teaches ballet and contemporary dance classes to both adults and children.
She
combines ballet technique with creative movement to inspire children and her adult classes use classical and contemporary techniques for whole body fitness, focusing on alignment, flexibility, strength and musicality. She is known for making dance accessible and encourages all to love moving!
Cara has worked internationally as a professional dancer since graduating from the Northern School of Contemporary Dance in 2008.
She runs Dance Stables, an arts in education company that specialises in dance classes and creative projects for all ages and in a variety of contexts (www.dancestables.co.uk)

Cara Horsley Dance Stables Company instructs the following:
A blend of ballet barre exercises and movement sequences, fused with Pilates and creative dance, for an overall full body workout. The class aims to develop physical strength, flexibility and good alignment, using dance and fitness vocabulary to a diverse music soundtrack.




No experience necessary, but be ready for a workout!