Jayne Miller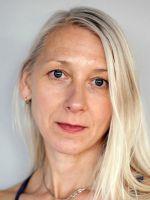 Jayne teaches Ashtanga and Vinyasa flow yoga with a strong focus on healthy alignment and awareness. She creates energising, yet mindful and varied classes. She also teaches pranayama, meditation, and restorative yoga.

Jayne trained with Yogacampus and is accredited by the British Wheel of Yoga and Yoga Alliance.
Introduced to yoga at college, Jayne has since then taken many styles in her own practice including Hatha flow, Iyengar, Anusara and therapeutic yoga. She brings in elements of them all to her teaching.
Jayne Miller instructs the following:
A vigorous practice, moving from pose to pose at a sustained pace. Expect a workout that builds up strength, flexibility and stamina.

The same sequence of poses, the Primary Series, is repeated in each class so you ultimately commit it to memory and can move on to self-practice. When fully integrated, the practice becomes like a moving meditation as you no longer need to remember the sequence.




Ashtanga yoga is a dynamic high heat flowing practice to tone, strengthen and detoxify. Repeating and building on elements of the Primary Series.

In this class you will repeat the same sequence of poses each week, ultimately committing it to memory and moving on to self practice.


In this class there will be an assumption that you are familiar with your sun salutations, but there is no expectation that you can memorise the sequence as it is a taught class. You will be introduced to some more challenging postures in this class.




A dynamic flowing practice of postures drawing on the ashtanga yoga tradition yet with creative sequencing so that each class is different.

Deep stretching for strength and flexibility leaves you energized yet relaxed.




All levels - everyone welcome, differing abilities are catered for. Complete beginners should be aware that a minimum level of fitness is recommended as these classes may be faster paced or more physically challenging.





The first day of the year is the perfect time to set your intentions for the year ahead. So re-set your body and mind after the (probable) exertions of the night before, ease yourself into a blissful night's sleep and be ready for work… and the rest of the resolutions on your list!




Restorative yoga is a truly relaxing experience. The body is gently draped and held using props to fully support you in restful postures where body and mind are progressively trained to let go. Tension in the body is gently and passively released and the body re-aligned and revitalised. With minimal effort and distraction in the body, the mind can become stiller and quieter, able to enter deeper layers of consciousness. We will end with a short meditation to focus our minds and aspirations for the coming year.




You will leave feeling nurtured and refreshed and ready to make the most of 2019!




FREE FOR MEMBERS and INTRODUCTORY OFFERS!