Alice Knowelden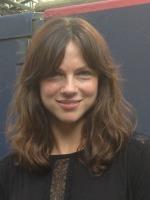 Alice teaches Iyengar yoga in a direct, kind and considered manner. She is well attuned to the needs of her students and enjoys helping them to overcome any barriers or fears they may have, through the use of props and positive thinking.
She has been practising yoga for 20 years and teaching since 2015, having discovered Iyengar yoga in 2009 after meeting Karen Long, who persuaded her to come to a class at Yogahome. It was a revelation to her that she had found a form of yoga she could practice with an injured wrist and she never looked back.
Alice currently studies with Uday Bhosale of the Ramamani Iyengar Memorial Yoga Institute in Pune, India, formerly a direct student of BKS Iyengar.
Alice Knowelden instructs the following:
Iyengar yoga focuses on precision and alignment of the body in the postures, using yoga equipment such as blocks and belts to help lengthen and open the body.

The quiet pace of the class allows you to explore each posture in depth, to develop excellent body awareness and release deeply held tension.

This class is specifically for beginners, so if you are new to yoga, this is a great place to start.