Nova Milesko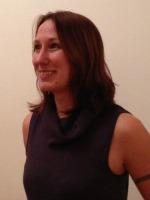 Nova has a playful and experimental approach to vinyasa flow. Her classes are challenging yet fun, and often involve partner work.
Nova completed her 500 hours teacher training over two years in India with renowned Vedantic teacher Yogi Vishvketu at the World Yoga Family in Rishikesh.
She continued to study at advanced level with prominent teachers such as David Swenson, Matthew Sweeney, Paul Grilley, Shiva Rea, John Friend, Sarah Powers, AcroYoga, John Scott and Michael Gannon. Studying and learning remain her true dharma or passion.
Nova Milesko instructs the following:
Yin Yoga is a quiet practice where postures are held for 3 minutes or more. This length of time is used to open into the thicker layers of connective tissues around the joints that a moving, dynamic practice may not as effectively access.


During this time of stillness and prolonged stretching, we develop attentiveness and refine awareness of our physical, energetic, emotional and mental states. Knowledge is gained in maintaining a quiet and conscious state at all times, whether the external environment is one of calm or chaos.

Yin Yoga is a perfect compliment to dynamic (Yang) yoga styles such as Ashtanga, Vinyasa Flow and Jivamukti yoga, and an extremely subtle and profound practice on its own. It is recommended to all wishing to slow down and deeply stretch and open up their body.