Karen Long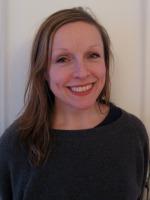 Karen teaches Iyengar yoga with an emphasis on finding a way to be in the poses with less effort. She feels passionately that yoga is not just a form of exercise but a practice to benefit mind, body and spirit, and that the beauty of Iyengar yoga is that it offers something for everyone.
Karen has been practising yoga for about twenty five years and qualified as a Junior Intermediate (level 3) Iyengar teacher. Having tried other styles of yoga over the years she felt at home with the clarity and precision of the Iyengar method.
She was a long-term student of Silvia Prescott and is greatly influenced by Advanced teacher Christian Pisano. Through her experience of major surgery a few years ago, she learned a great deal from another eminent long-term teacher, Mira Mehta.
Over the years, Karen has taught people of diverse backgrounds, ages and levels. She now lives in Marseille, France, where she teaches, and so her workshops here are a rare opportunity to be taught by her!
Karen Long is currently not instructing any classes.